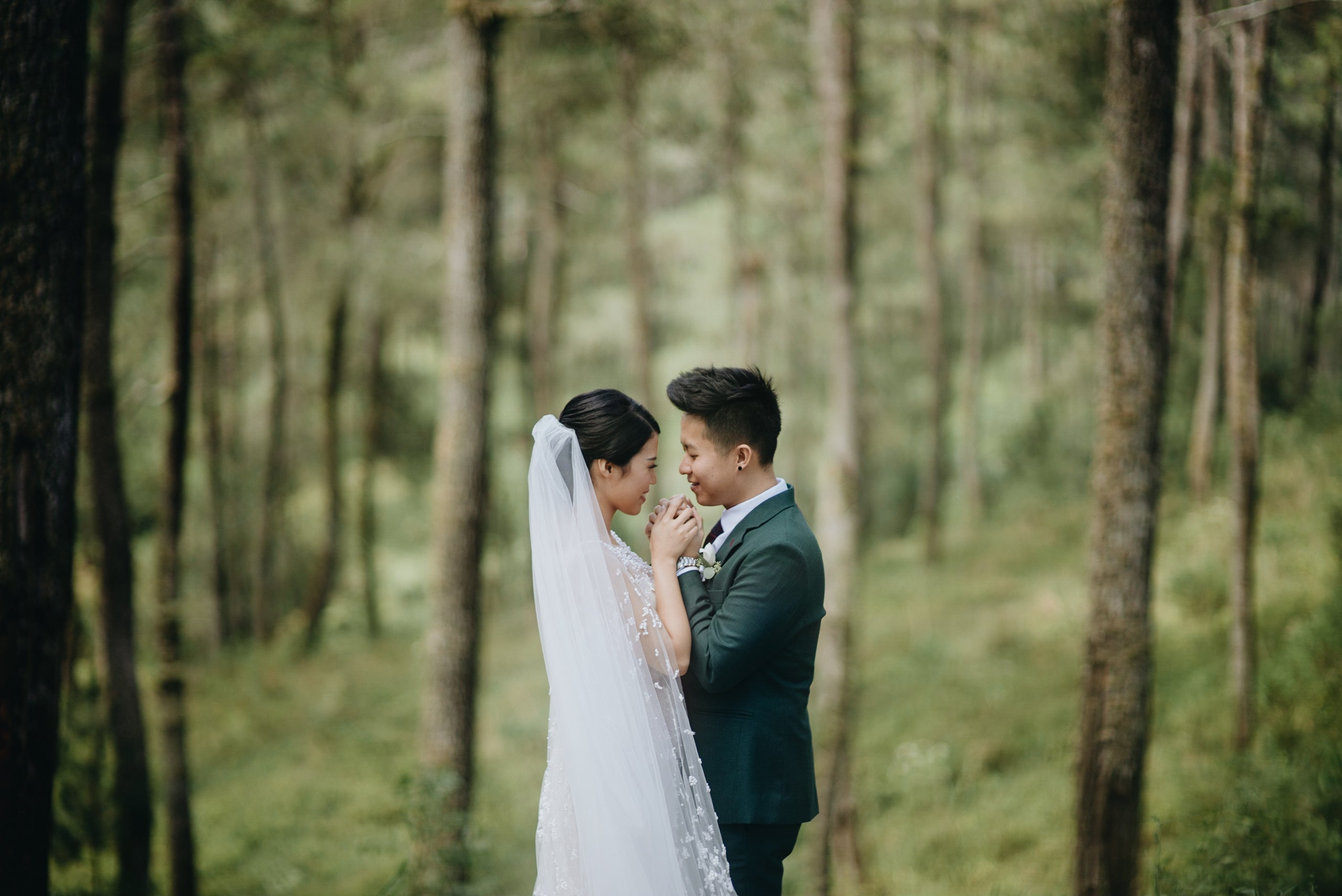 Top 5 Wedding Suit Inspirations For 2020
"My wedding is one-off so I'm just gonna buy a cheap suit off the rack."
Gents, if that's what you're thinking, you are so WRONG! Your wedding day should be one of the best-dressed days of your life. Your wife-to-be and yourself have been spending weeks, if not months planning out every single detail of your big day - the gown, makeup, hair, venue, decor, aisles, flowers, etc. Suiting up should NEVER be overlooked. Compromising on a well-fitting suit will only crumble all the efforts put in.
Whatever form your ceremony takes, it certainly merits your sharpest appearance, and it is also a form of respect to the woman whom you are putting a ring on her finger.
It's also going to require coordination with your groomsmen. And since you'll be taking up 50% of the pictures, thinking carefully about your clothing is equally as important as the bride's.
In this editorial article, we have narrowed down our top 5 wedding suit inspirations for 2020. Read till the end for some bonus wedding outfit ideas too!
1. Navy Blue Suit with Gray Vest
Here at Assemble, one of the most popular looks for grooms is the Navy Blue suit with a complementing Gray vest. The key feature of this look is the contrasting color of the vest, which really gives more dynamic to the whole outfit. For the suit, it is important to pick a darker shade of fabric. In the context of blue, think about Navy Blue or even Midnight Blue. For the vest, it should be a Medium to Light Gray. You do not want the Navy Blue suit to be matched with a Dark Gray vest as they will be too similar of a shade, throwing off the look. It is all about the contrast in color for this wedding outfit.
You can also choose a fabric that has a subtle pattern or texture going on in either the vest or the suit itself. It really depends on what your preference is and you can even add customizations to the vest or have it double-breasted. Vests fill a similar role to double-breasted jackets, but can always be removed to make the outfit a simple single-breasted 2-piece suit. Wedding photographers usually like to capture relaxed shots of the groom in just his vest and shirt, often with a jacket slung over a shoulder. So, do be prepared to do some taking off and putting on of clothing if you decide to go with the vested suit.
2. Double-Breasted Charcoal Gray Suit
The next option is for the more conservative groom, but still wanting to stand out on his big day. That brings us to the Charcoal Gray suit, and a Double-Breasted one to be specific. This look will be perfect for a hotel ballroom wedding (e.g. St Regis, Shangri-La, Ritz Carlton) or a church wedding (e.g. Chijmes, St Andrew's Cathedral) as it matches the venue and goes well with the level of formality of the event, as how dark-colored suits should. But at the same time, it still allows you to have many different moods and looks with the same suit when paired with different shirts, accessories, and shoes. After the big day, you can also definitely go for more casual looks like wearing the jacket with a pair of odd trousers. Some of the more popular options include light-wash denim jeans or cream cotton chinos.
3. Cream Suit in Hopsack or Linen
If you are open to something a bit more casual, you can consider earth tone colored outfits like a Cream suit, Beige suit, or even an Off White suit—and specifically in a Hopsack or Linen fabric. Take a look at the images above and below, you will be surprised how well they match light to medium Asian skin tones like they do for warmer skin tones too.
While there are various patterns like checks or even stripes available, we would recommend sticking to a solid color in this case because of the natural texture that a Hopsack or Linen fabric would already have. To create more depth to your outfit, you can wear a Brown vest underneath, preferably with a subtle check pattern to play with layering. This look would be perfect for a cafe or beach wedding (e.g. Sentosa) as it would match the tones of the venue. Additionally, you can also swap out your usual white shirt for a bolder one like a Bengal stripe shirt. This wedding outfit would also complement the bride's wedding gown very well in terms of the color scheme.
4. Brown Suit
If you fancy earth tones but prefer something of a darker shade because of formality, a Brown suit would be the way to go as there are many options to go from there too. You can opt for a Hopsack fabric and have your suit made in either a Single-Breasted or Double-Breasted construction, or simply go for a 3-Piece Suit (which means Jacket + Vest + Pants) with your fabric of choice.
The color speaks for itself and you can see how different buttons really play a part in the level of formality of the suit from the images shown above. Here at Assemble, it's all about the customizability, and we really look into the details when crafting a wedding suit. With the right buttons and the right shade of Brown, your wedding suit could also potentially be a new staple in your wardrobe after the big day as Brown suits are of similar level of formality as Navy Blue suits. So, not only would you stand out in a sea of Navy Blue suits on your wedding day, but you can also wear this to the office post-wedding and feel confident.
5. Olive Green Suit
Perhaps you want something really unique or you already have your basic Navy Blue and Charcoal Gray suits in your wardrobe, then you may want to consider getting a Green suit for your wedding suit. However, not just any green and definitely not a bright green, but an Olive Green or a darker shade of green. As you do not want your wedding suit to look like a costume, your best option would be to go for a darker shade. This wedding outfit is very popular for couples who are going for a rustic wedding theme often held in countryside venues like barns, farmhouses or ranches.
For an even more one-of-a-kind look that is bolder, these are a couple of "Green" suits that we did for our clients. On the left is a Dark Green Velvet sports jacket with embroidery which was outsourced as the client wanted a sophisticated piece which features a fun element and along the lines of a Gucci-inspired look. As the dragon was all along his spirit animal, we experimented with different sizes and positions to finalize this piece. It was a really fun process for us and the client.
On the right is a sports jacket in a type of Scottish Tartan known as the Black Watch with Yellow and Red. The traditional pattern makes for a dandy dinner jacket that is versatile to match with a necktie and even a bowtie for different events. As these are much bolder options, we would recommend matching with a black or dark gray pants to really let the jacket be a statement piece in the whole wedding outfit.
Bonus: Check Sports Jacket
Another popular look for weddings is to go for a sports jacket with a nice check pattern paired with a pair of solid color pants instead of the usual full suit or tuxedo. Whether you go for a bolder check pattern or a subtle one, it will contrast very well with basic black, charcoal gray, or navy blue pants. It is a more casual look and you are sure to stand out amongst your other guests and the look is definitely appropriate as a wedding outfit.
Conclusion
We hope we have helped you to narrow down your options for your wedding suit or outfit; and that you have a better idea of the look that you would like to go for. We definitely hand-selected these few to be in our top 5 list as they all have a certain level of versatility and you would still get many wears out of them for many years to come after your wedding day. Your wedding suit should not be a tuxedo that you wear just as a one-off. Instead, you should invest in an outfit that you can still dress up or dress down in the future to really get the best value for your money. For more inspirations, do check out #GroomsOfAssemble on Instagram.
If you have any other questions, feel free to hit us up at +65 8742 6863 and we would be happy to assist you. You can also book an appointment by clicking here. Be sure to follow us on Instagram at @assemblesg and like us on Facebook!