Elevated Summer Outfit Lookbook!
We all know our approach to what we want to wear has changed a bit recently. But one thing has stayed very much the same—style doesn't compromise. It is in this spirit that we have curated a new collection of Summer outfit combinations that can fit perfectly into your routine for the warm weather ahead.
1. Light Gray Polo with Navy Lightweight Wool Pants
With the construction of a traditional dress shirt collar and the over-the-head ease of a polo, this knit jersey cotton popover has remained an all-time favorite summer style. It is the embodiment of effortless cool and natural stretch which allows for increased movement and supreme comfort. 
Featured together here is a pair of Navy lightweight summer wool pants. It is a sharp, cool, summer-appropriate staple that offers the elevated style you want from your weekly wardrobe, as well as convenient, purpose-built touches such as wrinkle-resistance, easy-care, and breathability. For a more casual look, you can even switch out the pants for a pair of shorts for warmer getaways.
2. Orange Checked Shirt with Off-White Chinos
A light cotton shirt in a casual checked fabric that was made for the backyard and easy-going summer get-togethers. This attention-grabbing color and pattern is perfect for the beach and weekend escapes. Best matched with a pair of light-colored pair of pants in cotton or linen for the ultimate summer look.
3. Taupe Striped OPC Shirt with Tobacco Brown Chinos
A relaxed shirt that still looks good on a dinner out on the town as it does on a vacation. It has the weekend-ready comfort you would appreciate, but enough formality at the same time to make it a truly versatile shirting option.
Always in demand, these pants will also quickly become your go-to chinos. This is the Quest Cotton series from Huddersfield which is designed for travel-ready comfort which features a soft buttery finish with added natural stretch. Great for casual offices, or meeting up with friends for drinks after work. Pair them with a polo or a popover alternatively to achieve an easy-going yet sophisticated look.
4. Navy Safari Shacket with Light Gray Fresco Pants
Every modern-day gentleman can definitely use some linen in their life when the temperatures start to rise. There's just something about wearing a Safari Shacket over a white T-shirt that will make you look and feel slightly cooler than the people around you. This hybrid style features two deep chest pockets with a flap and button fastening. It has an unlined construction with French seams on the inside, horn buttons, and a hidden rubber drawstring along the waist so you can stand out just enough this Summer.
Whether it's a social event or your daily ride to the office, these crisp pair of Travel Pants are all about performance, presentation, and pleats. Designed for the man who is always on the move, they feature a dry high-twist fibre that allows for a sharp pleat line that will never ever lose its shape. This is one crease-resistant fabric suited for demanding travelers.
5. Emerald Green OPC Polo with Denim Jeans
Made for bright beach days, staycation getaways, or grilling in the yard, this polo shirt has the same natural stretch, easy-care, and moisture-wicking features as any other polo shirt does, but with a cooler One Piece Collar style.
Cut from 13oz Japanese Denim, these pants are finished with burnt orange-stitched hems and Oxford cloth pocketing, so they're as close to 'classic' as you can get, albeit an interesting tweak on the waistband style. It is one that carries a full range of characteristics—heavy, dense, yet tough with a beautiful uniformity of indigo color. This denim will age/mature gracefully over time with more wears.
6. Striped Camp Collar Overshirt with Cream Chinos
This camp collar overshirt is a celebration with vintage and modern aesthetics in mind. The fabric availability is limited and the big bold striped, sky blue and mocha patterns are unique. Making use of a dead-stock European-milled fabric, this shirt has been cut into a drapey short-sleeve shirt that is designed to be worn with ease. Tipped with double hidden-button chest pockets, camp collar, and matching toned buttons. It's surprisingly pleasing to look at how the stripe patterns match seamlessly from the shoulder down to the bottom hem.
Closing Thoughts
We hope we have given you some ideas with this lookbook for how you can dress to beat the heat while still staying stylish at the same time. It's all about the subtle elegance in the versatile pieces you choose to add into your wardrobe so you can get the most wears out of them.
Did you know we can also provide 'Wardrobe Makeovers' for you? If you have no clue on where to start, but are serious in doing something about it; come on down and speak to us! Our consultants have experience in styling different sets of clothes for different occasions, based on your face shape and skin tone. It is time to say goodbye to ill-fitting off-the-rack clothes! Book an appointment with us today by clicking here.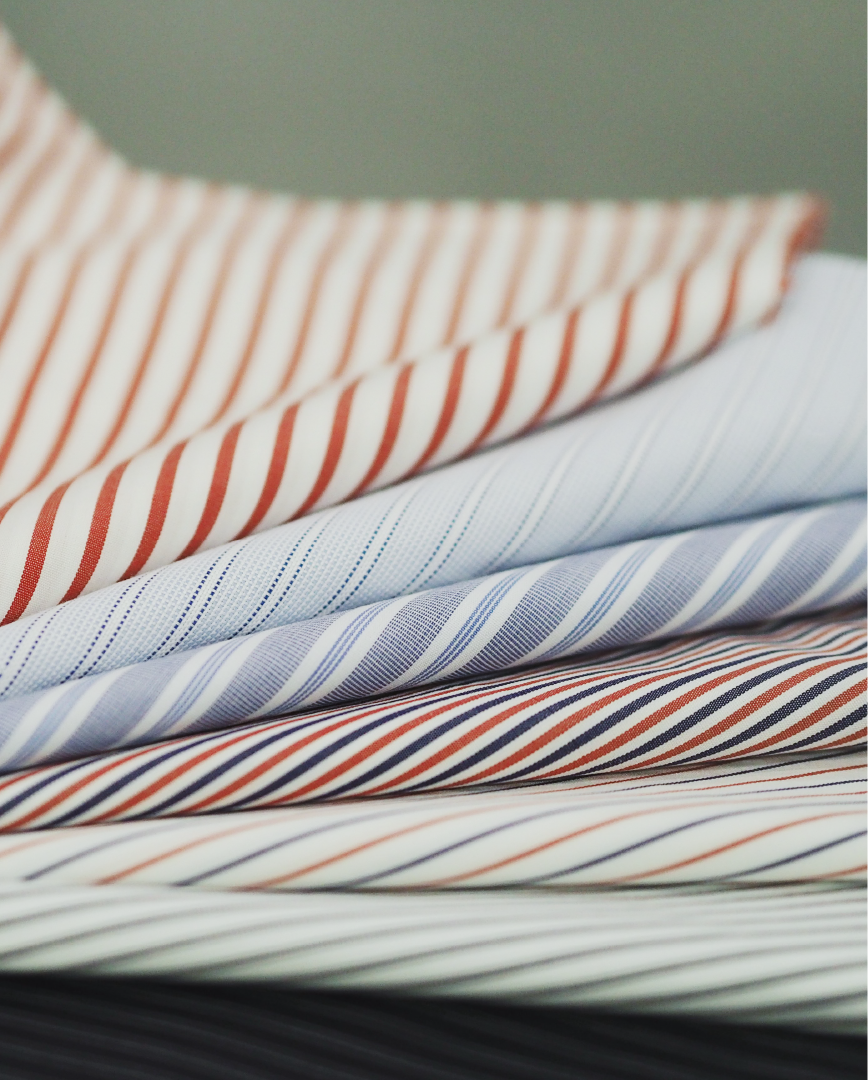 When building up your wardrobe, it is important to invest in the basic solids first before you go for bolder or fancier options. Of course, a crisp white shirt with minimal texture would be the fir...
Read more