Article: Breaking the Mold: Contemporary Styles for Groom's Wedding Suits
Breaking the Mold: Contemporary Styles for Groom's Wedding Suits
(2 Piece Embroidery Tuxedo photo by: @acapellaphotography)
As weddings become more personalised and individualised, groom's wedding suits are taking center stage in 2023. Gone are the days of the traditional black tuxedo, replaced by more contemporary and unique options that reflect the groom's personality and style.
(Wool Silk Sports Jacket from Piacenza)
One of the biggest trends in groom's wedding suits for 2023 is color. While black and navy suits will always be a classic choice, pastels, earthy tones, and bold colors are all popular options for grooms who want to make a statement. Soft blues and greens, dusty pinks and mauves, and warm browns and oranges are all stylish choices that add a touch of personality to the traditional wedding look. These colors can also be complemented with coordinating ties, pocket squares, and even boutonnieres, allowing the groom to show off his personal style.
(Speckled Brown Checkered 2 Piece Suit from Drapers)
Patterns are also on-trend for groom's wedding suits in 2023. From subtle pinstripes to bold checks and plaids, patterned suits are a great way for the groom to add some visual interest to his wedding day look. Floral prints are also making a comeback, with more and more grooms opting for suits featuring delicate blooms or bold botanicals.
(Custom Printed Linings)
Another trend in 2023 is customisation and personalisation. Bespoke suits that are tailored to fit the groom's body perfectly, with unique details like embroidered monograms or custom lining, are becoming more popular. This trend speaks to the individuality of the modern groom, who wants to express his personal style in every aspect of his wedding day. Custom-made suits also offer the benefit of being completely unique and one-of-a-kind, making the groom feel like a true standout on his wedding day.
(Pocket squares for Suits)
Accessorising is also a key trend for groom's wedding suits in 2023. Statement bow ties and pocket squares in bold patterns or colors are a great way to add some personality to a suit. Statement shoes, such as velvet loafers or embroidered slippers, are also a popular accessory choice. Other accessory trends include unique cufflinks, tie clips, and even suspenders or braces.
(2 Piece Linen Suit in Beige Sandstone)
Of course, the groom's wedding suit is just one aspect of his overall look. When choosing a suit, it's important to consider the style of the wedding, the bride's dress, and the overall color scheme of the event. Many grooms are opting for more casual looks, such as linen suits or even denim jackets, for rustic or outdoor weddings. On the other hand, more formal affairs may call for classic black-tie attire.
Overall, the trend in groom's wedding suits for 2023 is all about personalisation and individuality. From unique colors and patterns to bespoke tailoring and custom details, the groom's suit is a reflection of his personality and style. Take inspiration from these trends to create a wedding day look that is uniquely yours. Or simply book an appointment with us and our stylists will guide you from there!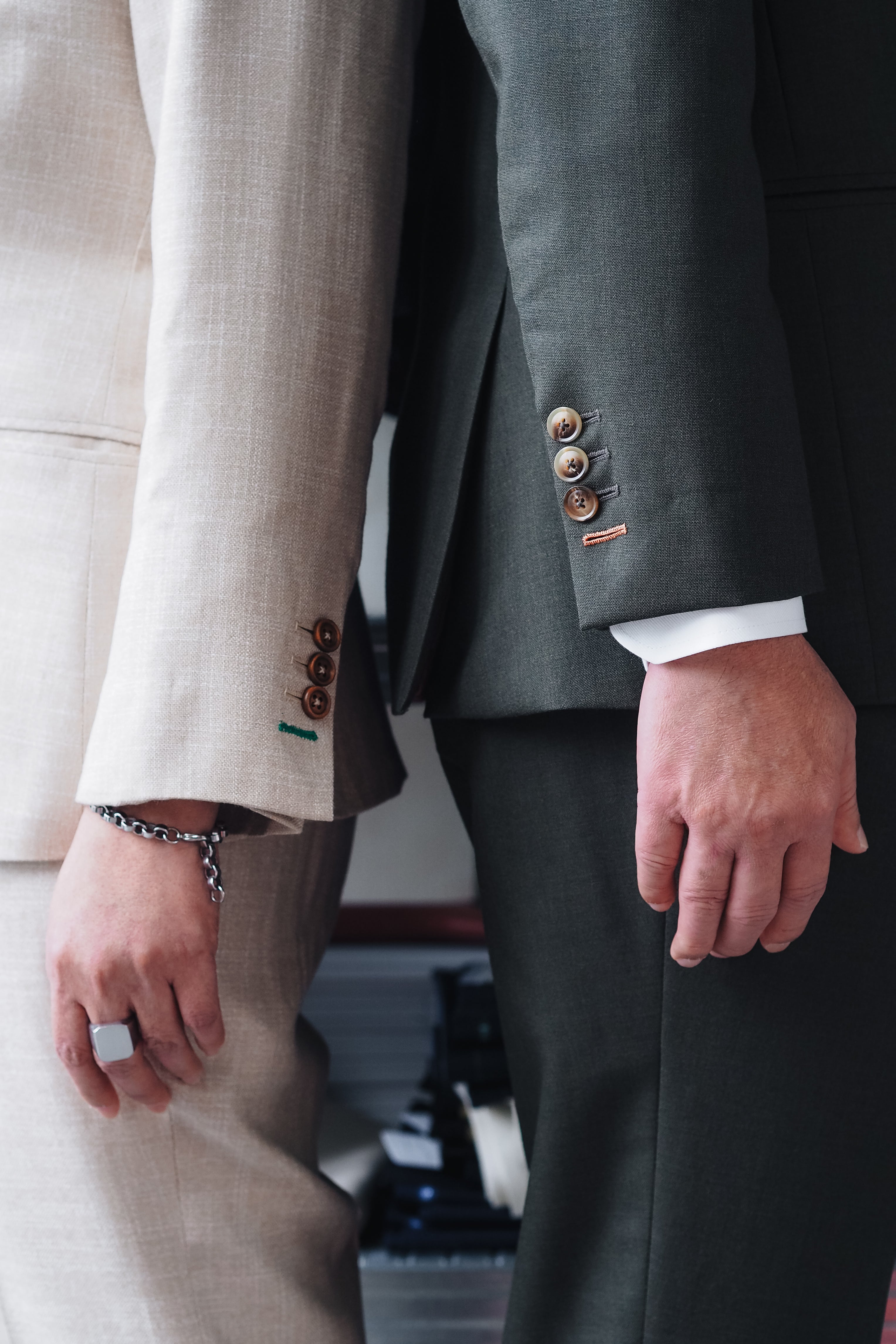 couple styling
We are always grateful to be a part of your special moments and journey in tailoring. At Assemble and Accent, one of our greatest joys is to style a couple up together, not only for their big day b...
Read more