About Fabrics: Different Types of Wool
One of the most commonly used fabrics for suits would be Wool. Just like cottons and linens, these fabrics are all created from natural fibres, but wool fabrics hold a totally different set of characteristics. Uniquely to wool fabrics, these wool fibres contain keratin-based protein and fat, giving the fabrics crimp. Each different type of wool fabrics have a varying level of crimp, depending on the density and chemical composition of each animal's hair.
Production Technology: Woolen Wool vs Worsted Wool 
The most common reaction when clients learn about wool being a suit fabric is "Isn't wool very warm?". Wools are often known for winter wear, specifically cashmere and merino wool. It might come as a surprise to many that wool fabrics are largely used for suiting fabrics, especially in sunny-land Singapore. In fact, not all wool fabrics are just meant for winter wear. 
There are different types of production techniques to create 2 types of wool fabrics, Woolen and Worsted Wool. 
Woolen Wool would be the kind that you will have for your winter coats and sweaters. The fibres are made short, having a low to medium twist. This helps to trap heat within the clothing. Woolen Wool fabrics are also made to have a heavier weight and are bulkier, hence they are good for tweeds, knits and coats.
On the other hand, Worsted Wool fabrics are made of longer and much finer fibres, in a tighter twist. This results in a lighter and smoother fabric, which are perfect for suits and dresses, as they are less warm in comparison with Woolen Wool. While it requires more processing, Worsted Wool fabrics are generally more expensive than Woolen Wool.
Different Types of Wool Fabrics
Now you know the different production methods of the wool fabrics, you are definitely looking at worsted wool for your upcoming tailored suits. Wools are not only made from sheeps, they can also be made in the hair of other animals. Here are 5 of the most common wool suiting fabrics:
Merino Wool
Made from Merino sheep wool (typically from Australia and New Zealand), the fibres are more fine than the average wool. This results in a softer fabric, which feels less scratchy on the skin as well, making it one of the most sought after suiting fabrics. Merino wool fibres also help to maintain your body temperature, by releasing heat and keeping you cool or providing sufficient warmth when the weather gets cold. Just imagine, Australia and New Zealand have extreme weather conditions which the sheeps have to adapt with, hence their wool to regulate their temperatures. Merino Wool might have to be your top choice for an all-season suit.
Lambswool (aka Virgin Wool)
As the name suggests, the wool is derived from the first shearing of the lamb. This is also why virgin wools are more expensive due to their rarity. They have not been processed before, hence in the purest and most natural state, as compared to regular wool which are usually recycled before. The fibres are extremely fine, creating a soft and silky texture of the fabric. A virgin wool suit would be a good addition in your wardrobe if you wish to own a luxurious outfit for important events.
Cashmere Wool
Cashmere is probably one fabric that most people would be more familiar with. Sourced from Kashmir goats, usually from Mongolia or India, the texture of the fibres is very lightweight, soft and silky. Despite the lightness of the fabric, it provides exceptional warmth. Such lush fabric like cashmere is perfect for fall and winter sweaters and coats.
Alpaca Wool
That's right, alpaca fleece can be made into a suiting fabric as well! Alpaca's fleece is strong and durable, and it is extremely lustrous. Being hypoallergenic, alpaca wool fabrics are good for people who are usually allergic to wool fabrics. Similar to cashmere, alpaca wool is able to retain body heat as well, making it much warmer than merino wool.
Mohair Wool
Derived from angora goats, the mohair wool is especially thick. The wavy wool fibres help to create a high level of crimp for the mohair wool fabric. The crimp allows the wool fibres to be soft and springy to touch, despite having a frizzy look. Mohair wools are therefore extremely crease-resistant and durable fabrics. Its texture usually also gives a good structured look when made into a suit.
Conclusion
It is important to know what you are wearing. Depending on your needs and wants for your suits, choose your fabrics wisely. It is always good to have a suit made of merino worsted wool, especially in Singapore, as it is able to keep you fresh outside and keep you warm indoors as well. Only when you are looking for variations in your suit wardrobe, or require a coat for colder weather, then you may consider the other warmer wool fabrics. 
If you have any other questions, feel free to hit us up at +65 8742 6863 and we would be happy to assist you. You can also book an appointment by clicking here. Be sure to follow us on Instagram at @assemblesg and like us on Facebook!
how tos
A 12-Month Wedding Outfit Timeline
After putting a ring on it, what's next? Wedding planning can be a tedious process with an exhaustive list of tasks to complete. We have come up with a 12-Month Wedding Outfit Timeline, to help you...
Read more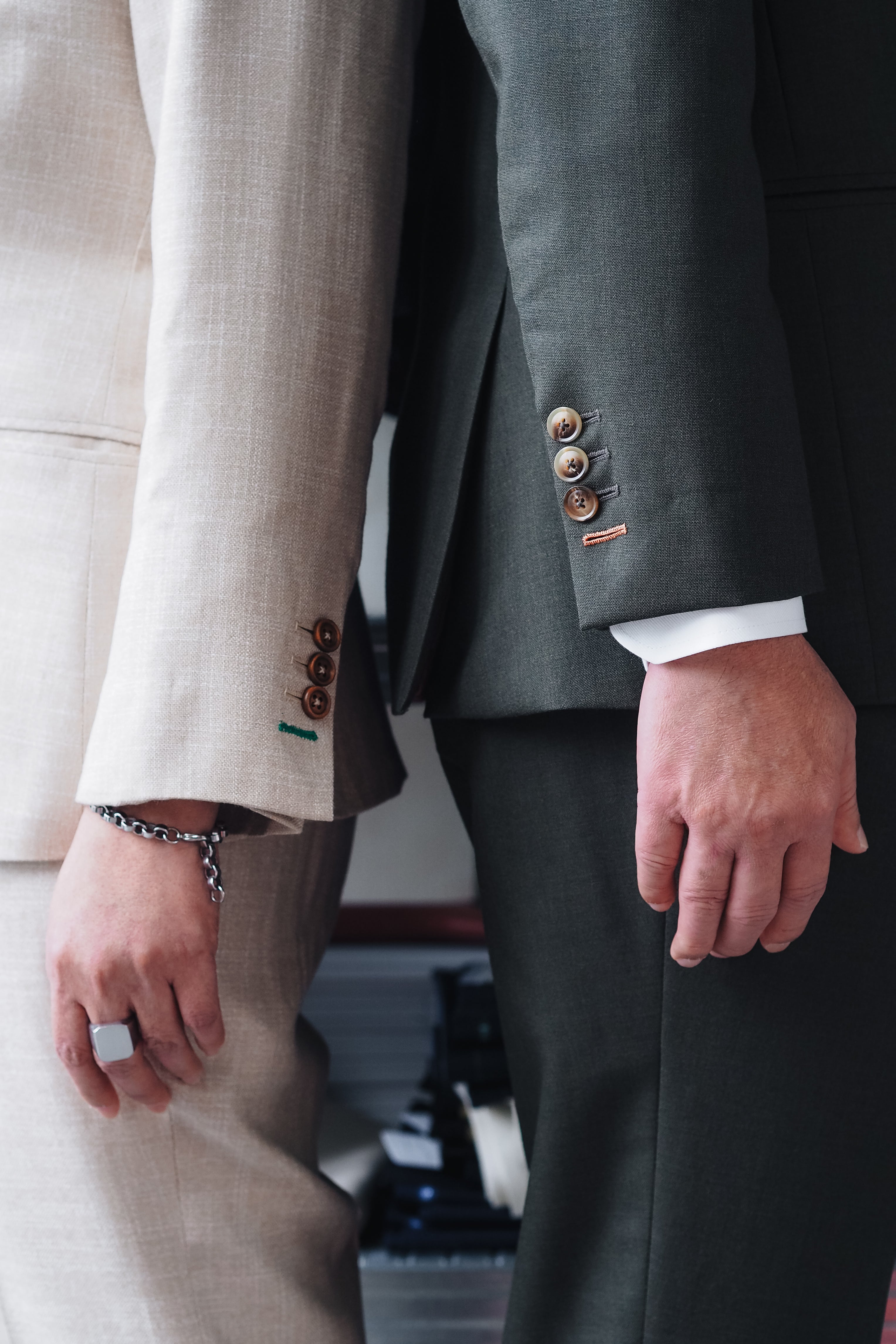 couple styling
We are always grateful to be a part of your special moments and journey in tailoring. At Assemble and Accent, one of our greatest joys is to style a couple up together, not only for their big day b...
Read more